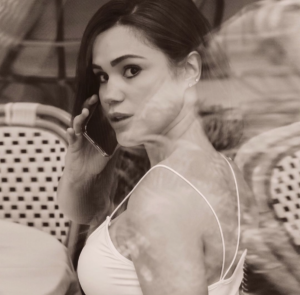 Hi! I'm Paulinne and this is my world.
I'm a successful entrepreneur, kick-ass content creator, and fierce woman with one goal-to take the fashion world by storm and bring you along with me.
I live my life with the attitude that whatever I want, I have the power to get myself. That attitude has served me well, but it was not always easy.
I grew up in a small Brazillian town where the men made money and brought it home for the women to spend. Everything a woman had (or wanted to have) was dependent on a man.
That life was not for me. Never was. Never would be. So, I did something about it.
I started my own business at the age of 22 and never looked back.
I ran my first marketing agency with relentless drive. My "go get 'em" sass and ability to outwork my competition took me far. I represented big name brands, went to high profile fashion events, and won a lot of awards. I was undeniably successful. But, somehow, I still was not satisfied.
I was missing something.

The marketing world only touched the surface of the things I am TRULY passionate about-Fashion and helping other women. To dive deeper into that passion, however, I knew I had to get out of Brazil (my town was not ready for me). And so, I moved to New York.
Here in the Big Apple, the world is mine. I live in a world of fashion and create fashion-driven content that educates women on everything the industry has to offer.
I am head-over-heels in love with my career.
I get to …
Create (killer) content that helps women everywhere navigate the world of fashion.
Attend the best catwalks in the country.
Go on vacation whenever I want.
For me, it does not get any better than that. Or does it?
Something big is coming next.
I'm not going to ruin the surprise, but ill let you in on a little secret. If you want to run your life, build your empire, and gain your independence like I have mine, then you're going to want to pay attention.
An invitation to my world is coming soon. So come on, let's do this thing together!